Patricia Heaton is an Emmy-winning actress whose career has spanned television, theater, feature films and publishing. She most recently starred in the CBS comedy, "Carol's Second Act," starring as Carol, a mom who after raising her two children and retiring from teaching, embarks on a unique second act: pursuing her dream of becoming a doctor.
Heaton's next project is a new book for Simon & Schuster, Your Second Act. When Heaton's children left the nest, she discovered she had the time to pursue passions that were previously placed on hold, both personally and professionally. She now finds her greatest fulfillment in using her influence as a Celebrity Ambassador for World Vision, a non-governmental charitable organization that provides humanitarian aid throughout the world. Through her own experience, Heaton became curious about other people's stories of second-act transitions. In the book, she shares wisdom from her own personal journey as well as insight from stories of numerous people across the country. The book is filled with light-hearted anecdotes and pragmatic steps to help readers discover their own path.
She recently starred in ABC's critically acclaimed comedy, The Middle, as Frankie Heck, a mom trying to find balance between her family and career in the mid-west. The show ran from 2009 to 2018. She is, perhaps, best known for her role as Debra Barone on the classic series Everybody Loves Raymond.  She won two Emmy® Awards for the role and was nominated 7 times. In addition to her Emmy® wins, Heaton is also the recipient of the Best Comedy Actress award from the Viewers for Quality Television, a SAG award and three SAG nominations in the Best Actress category for her role on Raymond.
Heaton launched her homewares line, Patricia Heaton Home with Walmart. Born out of her love for spending quality time with family and friends, the line, which launched with outdoor dining, is a natural progression of her love for entertaining. On the Emmy Award winning Food Network series, Patricia Heaton Parties, she drew inspiration from her family and travels and invited audiences to join her while she served up incredible, party friendly foods for her co-stars, friends and family.  She brought that same sensibility to print with her first cookbook, Patricia Heaton's Food for Family & Friends.  The book is full of recipes and tips for easy, fun meals, many of which can be made ahead of time.
In 2001, Heaton co-founded FourBoys Films, a production company which she runs with her husband David Hunt.  The company produced, the Sony feature comedy, Moms' Night Out and TNT's production of The Engagement Ring both of which starred Heaton.  She also starred in Hallmark Hall of Fame's, Front of the Class.  Her other credits include the TNT/Neil Simon production of The Goodbye Girl, Sony's animated The Star and ABC's The Path to 9/11.  FourBoys' additional productions include The Christmas Heart for The Hallmark Channel, and the documentary feature film The Bituminous Coal Queens of Pennsylvania for Netflix. FourBoys Films also produced the critically acclaimed film Amazing Grace, directed by Michael Apted, in conjunction with Bristol Bay Productions.  FourBoys partnered on the web series, Versailles for MyDamnChannel.com.  Heaton appeared in the series which was co-created, produced and directed by Hunt.
Heaton garnered praise in the theater world for her portrayal of "Stella" in the Second Stage production of The Scene, by Theresa Rebeck.  She received a Lortel Award nomination for her performance.  Her feature film credits include Memoirs of an Invisible Man, Beethoven, New Age and Space Jam.  In addition to her acting and producing credits, Heaton is a NewYork Times bestselling author whose book Motherhood and Hollywood — How to Get A Job Like Mine was her first venture into the publishing arena.
A committed philanthropist and founding member of World Vision's Celebrity Ambassador Network, Heaton has traveled to Rwanda, Zambia and Syria with the humanitarian organization, which focuses on conducting relief, development, and advocacy activities in its work with children, families, and their communities in nearly 100 countries.
Heaton is a mother to four sons and lives in Los Angeles with her husband.
"Remember, to feed is to love. When we cook, we stir our hearts into the food, and that's powerful stuff."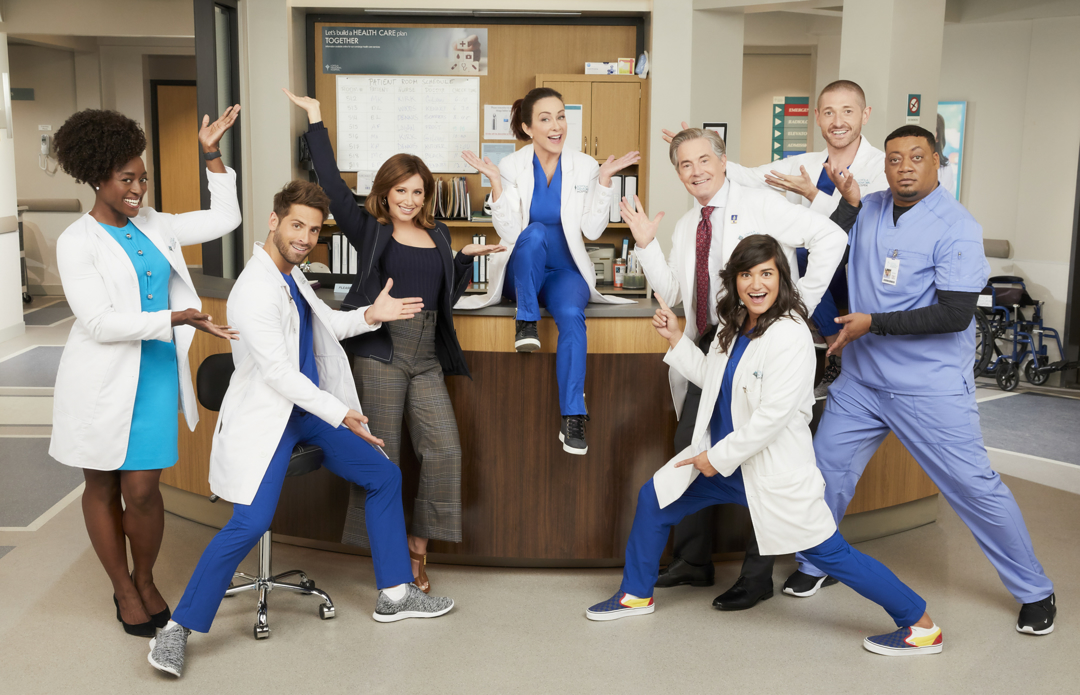 Sonja Flemming/CBS ©2019 CBS Broadcasting, Inc. All Rights Reserved