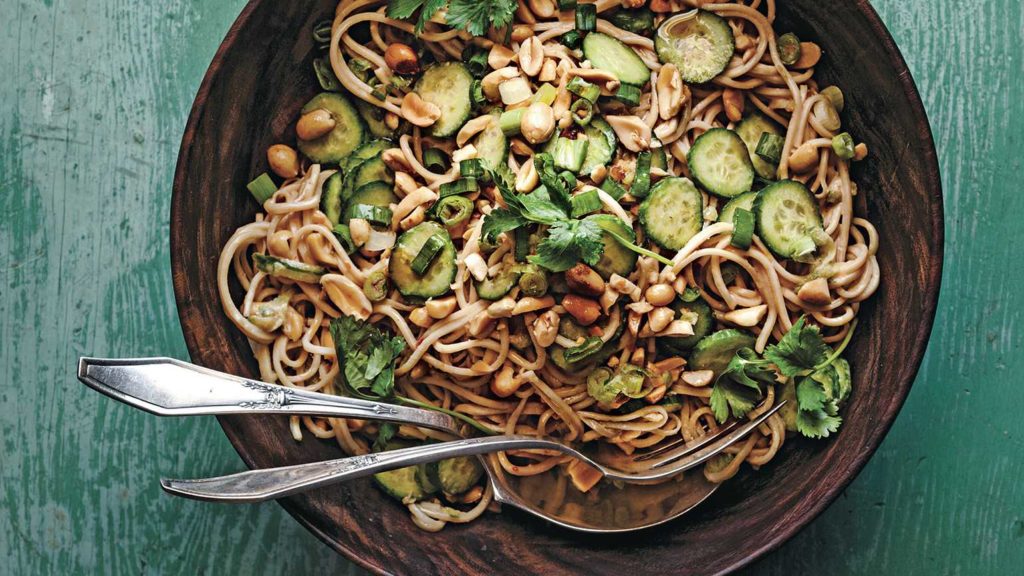 Cold Sesame Noodles with Cucumber
Remember those sesame noodles I used to order in New York as a cash- strapped actress? Well, I've re- created my own recipe here and, in my humble opinion, it's even better than the original. Best part? This is a cinch to make.
Ingredients
8

ounces

Chinese egg noodles, cappellini, or pad thai– style rice noodles

1

tbsp

peanut oil

¼

cup

peanut butter

½

tsp

toasted sesame oil

3

tbsp

rice vinegar

¼

cup

soy sauce

2

tsp

toasted sesame seeds

1

tbsp

honey

2

tbsp

freshly grated ginger

or 1 tablespoon ground ginger

2

cloves

garlic minced

1

tbsp

red pepper flakes

1

tbsp

sriracha or other red chile sauce

2

Persian cucumbers, 1 grated, 1 thinly sliced

1

scallion, chopped

¼

cup

salted roasted peanuts, chopped

¼

cup

fresh cilantro leaves, chopped
Instructions
Bring a pot of water to a boil. Prepare a bowl of ice water.

Cook the noodles in boiling water until al dente, 3 to 5 minutes. Drain and transfer to a bowl of ice water and soak for 5 minutes, until well chilled. Drain again, return to the bowl, toss with the peanut oil, and set aside.

In a large bowl, whisk together the peanut butter, sesame oil, rice vinegar, soy sauce, sesame seeds, honey, ginger, garlic, red pepper flakes, and sriracha. Fold in the grated cucumber, half the scallion, and half the peanuts. Add the chilled pasta and toss to coat thoroughly. Transfer to a serving bowl, twirling the pasta into a nest shape. Top with the sliced cucumber, cilantro, and the remaining scallion and peanuts.
Recipe Notes
MAKE IT FANCY
Break out the chopsticks and serve your guests the sesame noodles in Chinese takeout boxes— if you ask nicely, your local Chinese restaurant might give you some for free (hey, it's worked for me!). Otherwise, you can buy them really cheap online or at some paper supply stores. Go the extra mile by cutting .- inch slices of carrot and using a decorative flower- shaped vegetable cutter to cut out orange flowers to serve on top of the noodles.
RECIPE AND PHOTO COURTESY OF HARPER COLLINS PUBLISHING AND PATRICIA HEATON.