I love gingersnaps. We happily ate them growing up, but Mom never thought to use them in a recipe! This is a pretty, light, and fun dessert, perfect for a summer brunch or ladies' lunch.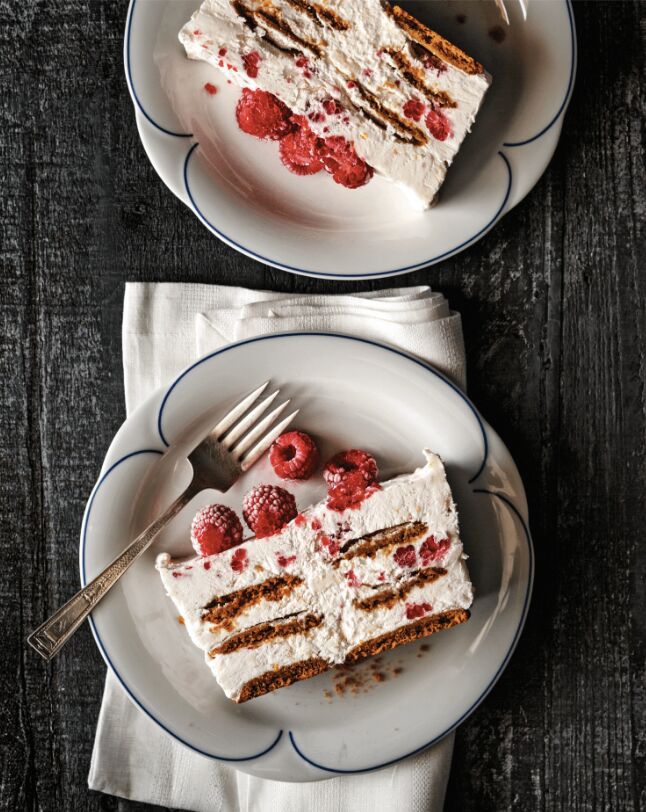 Raspberry-Lemon Icebox CakeRaspberry-Lemon Icebox Cake
Ingredients
2 ½

cups

heavy cream

6

ounces

cream cheese, softened

1

cup

confectioners' sugar

zest and juice of 1 lemon

½

pint

fresh raspberries

24

packaged

gingersnaps
Instructions
In a medium bowl, beat the cream with a hand mixer until soft peaks form. Set aside.

In a large bowl, combine the cream cheese and confectioners' sugar with the lemon juice and zest. Beat until creamy and well blended. Add the raspberries and use a rubber spatula to smash and stir them into the cream cheese mixture. Gently fold in the whipped cream.

Line a 9 × 3-inch loaf pan with a sheet of parchment paper long enough to hang over the sides (this will act as a sling to lift out the cake when it's ready to serve).

Arrange 8 gingersnaps in a single layer in the bottom of the pan. Spread one-third of the filling over the cookies. Repeat this process twice with the remaining cookies and cream, making three layers in all.

Chill in the fridge for at least 6 hours, and preferably overnight. When ready to serve, lift the cake out of the pan and cut into slices.
RECIPE AND PHOTO COURTESY OF HARPER COLLINS PUBLISHING AND PATRICIA HEATON.