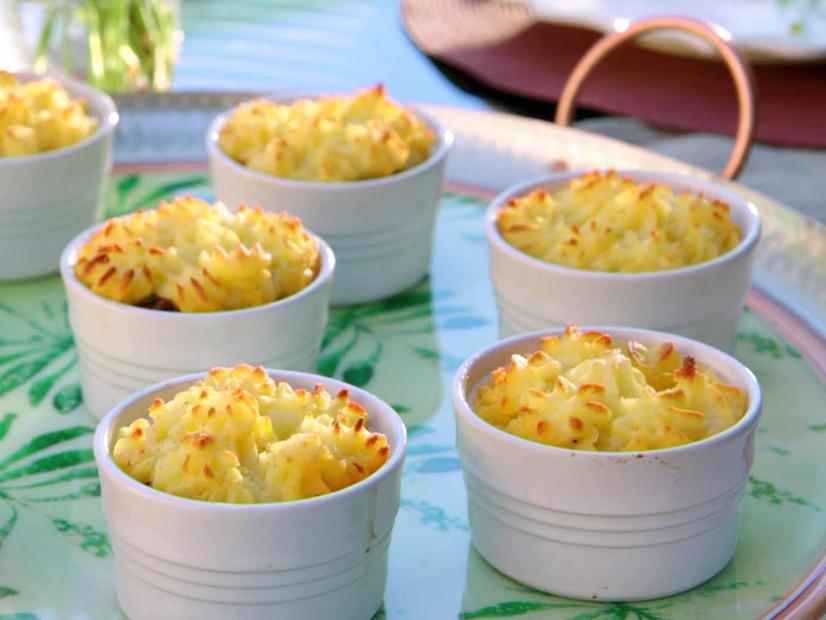 Shepherd's Pie
The Brits love their pies — A simple way to use leftovers and yet weirdly fantastic. We eat them all the time in our house.
Ingredients
Stew
2

tbsp

unsalted butter

1

small

onion, finely chopped

1

rib

celery, finely chopped

2

medium

carrots, cut into 1/2-inch pieces

1

tsp

chopped fresh thyme

2

lbs

ground beef chuck

kosher salt

freshly ground black pepper

2

tbsp

tomato paste

2

tbsp

all-purpose flour

2

cups

beef stock

2

tbsp

worcestershire sauce

2

tbsp

chopped flat-leaf parsley

1

cup

frozen peas, not thawed
Mashed Potatoes
2

lbs

russet potatoes (about 2 large), peeled and halved

kosher salt

1/3

cup

heavy cream

1

stick

unsalted butter

1

cup

shredded sharp orange cheddar cheese
Instructions
Special equipment: eight 6- to 8-ounce ramekins

For the stew: Melt the butter in a large skillet over medium-high heat. Add the onion, celery, carrot and thyme, and cook, stirring occasionally, until the onion and celery soften, 2 minutes. Add the ground beef, salt and pepper, and cook, stirring and breaking up any clumps, until brown, about 5 minutes.

Stir in the tomato paste and then evenly sprinkle the flour over the meat mixture; stir to coat. Add the beef stock and Worcestershire, and bring to a simmer. Lower the heat to medium and simmer, stirring occasionally, until the most of the liquid has evaporated and the carrots are tender, about 10 minutes. Stir in the parsley and peas, and season again with salt and pepper if needed.

For the mashed potatoes: Put the potatoes in a large pot; cover with cold water by 2 inches and add a big pinch of salt. Bring to a boil over medium-high heat, then reduce to a simmer and cook until the potatoes are easily pierced with a paring knife, 20 to 25 minutes. Drain, then pass the potatoes through a ricer and return them to the dry pot.

In the microwave or a small pot, warm the cream along with the butter and some salt; pour into the potatoes, and mix well incorporated and the potatoes are very smooth. Season with salt and pepper. Fold in the cheddar.

Finish the shepherd's pies: Preheat the oven to 400 degrees F. Divide the stew evenly among eight 6- to 8-ounce ramekins. Place the ramekins on a parchment-lined baking sheet. Using a re-sealable bag fitted a 1/2-inch star tip, pipe dollops of mashed potatoes around the top of each ramekin until the stew is covered.

Bake until the potatoes are golden brown in spots and the meat mixture is bubbling, about 20 minutes.
RECIPE AND PHOTO COURTESY OF FOOD NETWORK AND PATRICIA HEATON PARTIES.