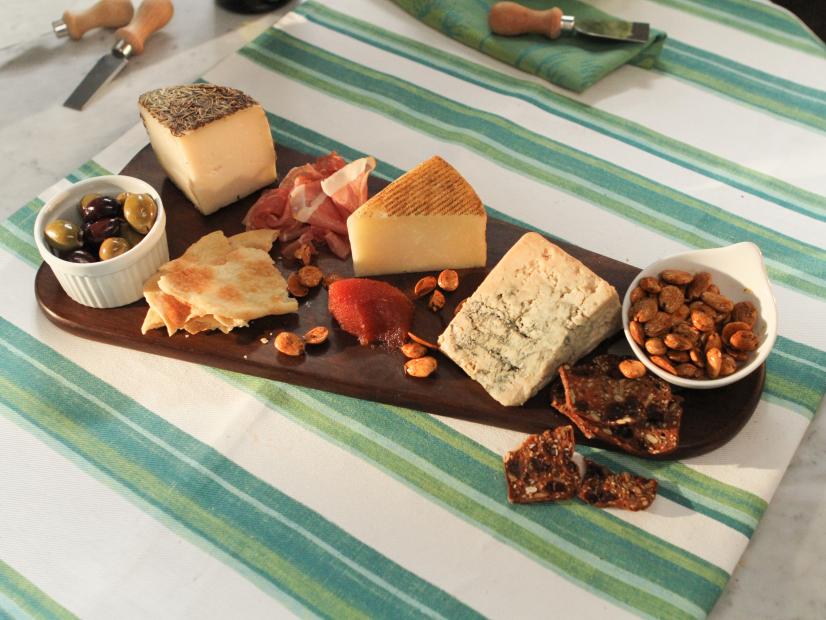 Spanish Cheese Board
A cheese board is like a painting; the board is the canvas and the foods are the colors.
No pressure.
But seriously, for you creative types, a cheese board offers plenty of opportunity for expression, and the kitchenware industry has driven the whole thing with cute, fun, and wholly impractical cheese boards. We've gone way beyond your mom's cutting board, my friend; you can now lay your spread on slate, stone, marble, and fifty different types of finished wood. It's a cheese board jungle out there!
As in life, the key to pulling together a show- stopping cheeseboard is balance. You want to have a good mix of savory, salty, crunchy, and sweet. Done well, a glorious cheeseboard like this can double as a rather filling meal. This recipe is from Patricia Heaton Parties on the Food Network but, any of the recipes in my book, 'Patricia Heaton's Food For Family and Friends' are anchors for a fabulous cheese board!
Ingredients
1/2

cup

marinated mixed olives

1/2

cup

Spiced Marcona Almonds, recipe follows

1

soft Spanish cheese, such as Cabra Romero

1

wedge mild Spanish cheese, such as Manchego

4

ounces

sliced jamon serrano

1

hunk of Spanish blue cheese, such as Cabrales, or a smoky cheese

1/4

cup

quince paste or honey

Assorted crackers, for serving
Spiced Marcona Almonds
3

cups

marcona almonds

3

tbsp

olive oil

1

tbsp

smoked paprika

1

tbsp

minced fresh rosemary

2

tsp

kosher salt
Instructions
On a large serving board, arrange the olives and almonds next to the soft cheese, the jamon next to the mild cheese, and the quince paste next to the blue cheese.

Serve with crackers on the side.

Spiced Marcona Almonds: Preheat the oven to 350 degrees F.

Place the almonds, olive oil, paprika, rosemary and salt on a rimmed baking sheet and toss until evenly combined. Bake until lightly browned and fragrant, tossing halfway through, about 10 minutes.

Transfer the almonds to a bowl and let cool completely. Store in an airtight container until ready to use.
RECIPE AND PHOTO COURTESY OF FOOD NETWORK AND PATRICIA HEATON PARTIES.