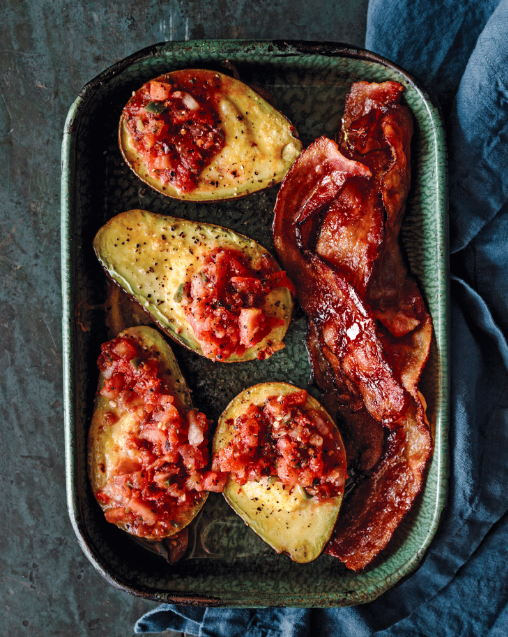 Baked Avocado Eggs
Both avocados and eggs will give you long- lasting, slow- burning fuel for the day. By adding cotija, red pepper flakes, and chorizo, you'll get a spicy kick on your way out the door. I like this dish not only for its flavors, but because it's a nice break from carbs at breakfast.
Ingredients
4

eggs

2

tbsp

crumbled cotija cheese

splash of heavy cream

sea salt

crushed red pepper flakes

freshly ground black pepper

2

avocados

¼

cup

cooked crumbled chorizo or salsa
Instructions
Preheat the oven to 425ºF.

In a medium bowl, combine the eggs, cotija, cream, salt, red pepper flakes, and pepper in a medium bowl. Beat with a fork until well mixed.

Halve and pit the avocados (do not peel them). Depending on the size of the avocado pits, you might need to use a spoon to shave a little bit of extra avocado from the center to accommodate the egg filling.

Arrange the avocados cut side up in a small, rimmed baking dish (they should be snug enough to not roll around). Carefully pour egg filling into the center of each avocado (do not overfill).

Bake 12 to 15 minutes, until the filling is lightly golden on top.

Spoon 1 tablespoon chorizo or salsa on top of each avocado half. Serve hot.
RECIPE AND PHOTO COURTESY OF HARPER COLLINS PUBLISHING AND PATRICIA HEATON.