I was eating quinoa long before I knew how to pronounce it correctly (keen- wah, by the way). It's one of the upsides to living in a place like L.A., where you're exposed to all sorts of cool things before they're well known, and your family back home thinks you've gone off the deep end because you're eating some weird ancient Peruvian grain. Quinoa— which grows well at high altitudes— has been the staple food of people living in and around the Andes Mountains of South America for millennia. In the last twenty years, it's made the journey to North America, where it's become quite popular, which is good: it's gluten- free, high in fiber, and contains plenty of protein, iron, and other nutrients. In terms of cooking, quinoa is very easy to prepare, and goes wonderfully with all sorts flavors, without losing its own distinct taste. Quinoa is a great base for a really healthy, well- rounded meal.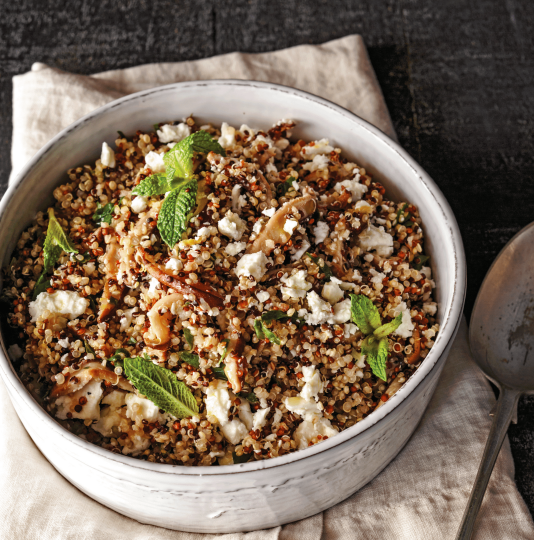 Warm Quinoa, Shiitake, and Feta Salad
Ingredients
1

cup

uncooked quinoa

1½

cups

vegetable or chicken broth

sea salt

2

tbsp

extra virgin olive oil, plus more for the mushrooms

6

ounces

shiitake mushrooms, stems discarded, caps thinly sliced

freshly ground black pepper

handful of fresh flat-leaf parsley leaves or mint, chopped

zest and juice of 1 lemon

2

ounces

feta cheese, crumbled
Instructions
Combine the quinoa, broth, and a pinch of salt in a small saucepan over medium- high heat. Bring to a boil, cover, and reduce the heat to low. Cook for 10 minutes. Remove from the heat and place a clean kitchen towel between the lid and pot. This helps to absorb condensation and saves you from soggy quinoa. Set the pan aside while you prepare the mushrooms.

Heat a medium skillet over medium-high heat. Swirl in a bit of oil to coat the bottom of the pan. Add the mushrooms and season with salt and pepper. Sauté until golden and tender, 3 to 5 minutes.

Fluff the quinoa with a fork and transfer to a medium bowl. Add the mushrooms, parsley, lemon zest and juice, and 2 tablespoons olive oil. Mix well, season with salt and pepper, and stir in the feta cheese. The salad may be served warm, at room temperature, or cold.
Recipe Notes
MAKE IT FANCY
Try topping this dish with a drizzle of truffle oil to take it up a fancy notch.
RECIPE AND PHOTO COURTESY OF HARPER COLLINS PUBLISHING AND PATRICIA HEATON.